January 2, 2018, a day I will never forget. I was in an Airbnb near Boca Raton, Florida and having to stay goodbye to my man. Tears streamed down my face for hours and I could hardly get a grip. Flashback to March 2017, I was accepted into We Roam. One of the employees who had interviewed me gave me a piece of advice I took to heart. "Don't get into a relationship," he said, "it will be painfully hard unless he's extremely supportive and open-minded." I had every intention of sticking to that plan, actually, I was more than adamant. Not only did I find myself in a relationship, but with a man who has been nothing short of supportive and has encouraged me to persue the world tour. Here I am almost a year later, sitting on the beach writing this post while he's yards away, getting a massage.
When I left the US for Bali I had only completed half of the trip before receiving a text from Brandon with a flight itinerary... to Cambodia. My first thought, "He decided to come to Cambodia?? Of all places?!?!?!" Reality quickly set in and I was more than elated. To fly halfway around the world for a week is a big commitment and what homesickness I was feeling at the time started to fade as I knew it would only be a matter of weeks before I was able to see him again.
The week before his arrival was PAINFULLY LONG. I'm sure I annoyed all of you to death with my Instagram stories. I was trying to adjust to a new country, plan the next week and anxiously await his arrival.
I wanted him to see all Cambodia has to offer in a short amount of time so I did some extensive research and planned the week. He arrived last Saturday after a 32-hour flight from Indy --> LAX --> Hong Kong --> Phnom Penh. I was nervous he'd be tired and worn down the entire week but he handled the jet lag like a champ, didn't even seem phased. Anxious to hear how exhausted he is when he gets home :-)
Our first night we stayed at The Pavilion, a boutique hotel in Phnom Penh. They picked us up from the airport in an old school Jag, put a bottle of chilled champagne in our room and covered the bed in fresh flowers. We spent the day relaxing by the pool, had a couples massage and went to the Aquarius Hotel for dinner and sunset. Perfection doesn't begin to describe February 3rd. The following day happened to be Brandon's birthday so we had a fancy breakfast in bed before packing up to hit the Cambodian coast.
A little over 4 hours away from Phnom Penh is a coastal town, Sihanoukville. Home to a few resorts, casinos, bright blue skies and consistent 85-degree weather. We stayed at Sokha Beach Resort for two days, doing nothing but enjoying each others company and relaxing by the pool and beach. We did, however, decide to skip the sun one of our precious mornings and visit the local market. Cambodia itself is sensory overload but the market is on another level. You can easily get lost, and the smell… I can't even describe it. If you've ever let meat sit in the trash too long you know what the smell is like.... x10 because there is every kind of animal possible in that market.. chicken, fish, cow, pig.... frog … Makes me a little nauseous thinking about it. I was hoping to find unique items to add to my traveling wardrobe and some gifts to send back home but no dice. Brandon, however, scored a $10 watered down bottle of cologne. Apparently, it's $100 back at home so he thinks he's winning.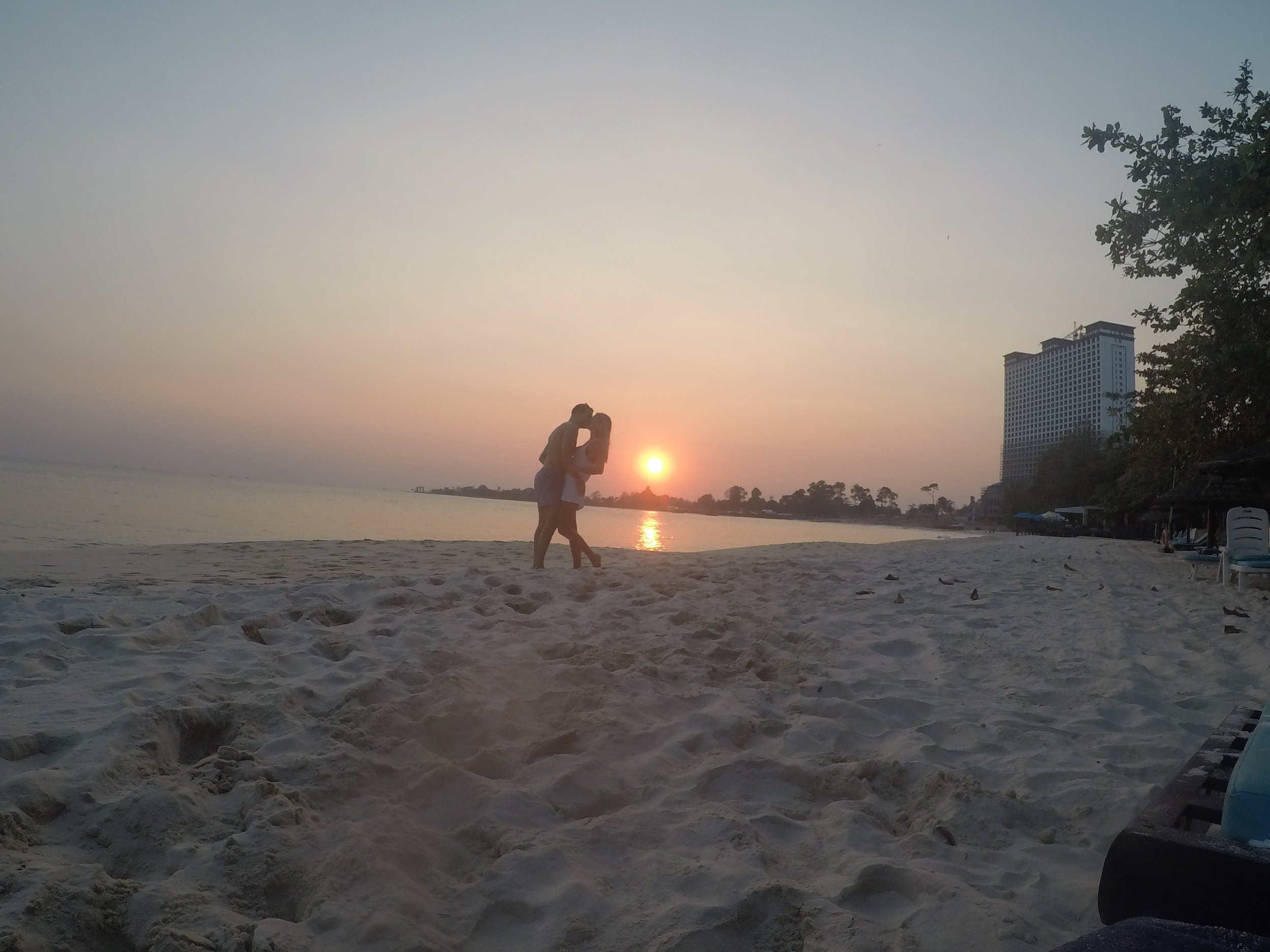 Tuesday morning we left for Koh Rong Sanloem, an island off the coast of Cambodia. What was supposed to be a 45-minute boat ride ended up being a 2-hour excursion.. It just so happened to be an extremely windy day so the seas were a little rough… It was like Gili Islands all over again. I was bound and determined to find a helicopter to fly us back opposed to getting back on that dern boat. Ain't doin it... but I did and th ride back was lovely.
Brandon and I walked the beach, lined with the cutest little bungalows and found us a place to stay. He decided to splurge a little bit on a beachfront resort … It was out of a dream. I had thought about canceling the rest of our plans so we could stay there the rest of our time together. The sand is like powdered sugar and they keep the beaches squeaky clean (compared to what we had in Bali). Hammocks and swings in the ocean are a dime a dozen. Nothing is owned by corporations so every place of business is local and picturesque.
We fell in love with our little resort and each of the employees including a little guy who we met very early on in our stay, a son to a young girl who works in the kitchen. He thought the portable speaker was highly entertaining and took on quite the liking to Oreos (can you blame him?!?!)
I had read Lazy Beach is the place to be for some RnR and epic sunsets. Our resort had given us snorkel masks and directions to get to the other side of the island. We had to walk 30 minutes through the rainforest to get there. I enjoyed watching Brandon's nervous face as he was expecting a snake or giant animal of some kind to come at as full speed ahead. We did find a giant pile of poo in the middle of the trail. What could possibly take a dump that big is beyond me.. it had me a tad bit freaked out. Here's to hoping it belongs to gentle, wandering cow.
Lazy Beach is unlike any other beach I had ever been to. There were maybe 25 people on the beach at any given time, the water is crystal clear, even when you're 8 feet out. Nothing on the bottom of the ocean other than sand and you can see it ripple from the current. The waves were next to nothing, hearing them hit the shore reminded me of being on the lake back at home. Brandon and I put our snorkel masks on and headed out. We ended up swimming along the rocks to get views of coral and colorful fish. I believe Brandon could have snorkeled for days. I was extremely impressed ... this man is not a fan of going in the ocean, especially when he can't see what's coming atcha. HA. Cracks me up.
We enjoyed Lazy Beach so much we got up early the next day to watch the sunrise and head right back. We wanted to snorkel the other side of the cove and I'm so glad we did. More coral, more fish, and several naked old men lined the beach (YES, they were FULLY nude. In the FLESH.) It was paradise. Please note the sarcasm.
I would have loved to stay on the island a few more days. Several of my fellow Roamers are spending the weekend there and I'm just a smidge jealous. However, I will admit, at this exact moment I'm a little over the sun. Yes, I said it. Don't any of you back home in the negative temps school me about this either. I'll feel differently next week.
Brandon and I went back to Sokha hotel for two more nights before heading back to Phnom Pehn. We decided to do some stand-up paddle boarding our last day. The ocean somehow ate my sunglasses, well... they weren't mine. They were Brandon's but he gave them to me and I'm still feeling super guilty for getting in the ocean with them in the first place.
We took a taxi back to the city Friday morning. I wanted him to experience more of Phnom Penh before departing. I was able to give him the grand tour of our coworking space, Outpost, and he was able to spend a few hours with the few Roamers who stayed back for the weekend. On our way home from dinner, we just about died in a Tuk Tuk (I'm being dramatic). The driver had a giant Glock on the back of his t-shirt if that tells you anything. He was blowing through red lights like it was nothing. My anxiety was through the roof and I think Brandon was enjoying every minute of it.
Today (probably tomorrow by the time you read this) I had to say goodbye to Brandon. Having him here, felt like home. He brought me all my comforts.. my pillow, blanket and himself. The only thing missing was my dear fur baby. I'm back to all the feels. Excited for all my upcoming adventures and sad a the same time. In 29 days we will be together again in Melbourne, Austrailia! Something for us both to look forward to.
Brandon has promised to guest blog about his experience here in Cambodia. Something for you all to look forward to :-) <--- Babe, does this hold you accountable?